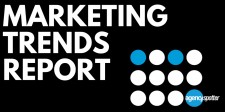 Report Finds Direct Marketing and Email Marketing Among 14 Marketing Services Trending Up Over The Last Four Years. It Highlights The Top 25 Most Searched Services For 2017 and Uncovers Seasonal Marketing Trends Agency Owners Need To Know.
ATLANTA, GA, January 16, 2018 (Newswire.com) - Agency Spotter published its 2018, 'Marketing Trends Report'. This new report traces the global demand in the marketing services industry covering more than 40 service areas from advertising to branding, product design to digital strategy. By identifying what services professionals are searching for and looking at across four year macro trends, seasonal trends, and year over year trends, the marketing and advertising industry can be more responsive about its offering and positioning. At the same time, decision makers looking to search for marketing services may find these trends reassuring or may use them to see how their own company's marketing services stack up. 
The report uses mobile and multi-platform data from 160 international markets (from the USA and UK to Germany and France) to demonstrate audience and demand trends, along with seasonal differences across the digital landscape. To download a copy of the report, please visit: www.agencyspotter.com/trends-report
"Advertising remains the number 1 most searched service out of the 40 that we track," said Brian Regienczuk, chief executive officer and co-founder at Agency Spotter. "This report underscores the importance of looking at macro and seasonal marketing services behavioral trends that publishers, advertisers and agencies need in order to effectively prepare as the marketing industry evolves. We're excited to expand this measurement to include even more markets throughout 2018 as we help map the future of marketing."
The report, based on data from Agency Spotter's mobile and web solutions, covers key marketing trends including the top 25 most searched marketing services for 2017, five services whose demand shifts with the season, and four year macro trends that show consistent growth for services like direct marketing, email marketing and others.
Key insights revealed in the 'Marketing Trends Report' include:
14 services trending up over four years including direct marketing, search (SEO/PPC) and inbound marketing
6 services were stable during the four years including advertising, digital strategy, social media, marketing strategy, mobile and gaming.
Marketing services including social media, e-commerce, media planning and strategy, user experience design, and email marketing are all searched more frequently during different times of the year.
Year over year changes to the top 25 marketing services had lots of movement with the highest climbs seen by direct marketing, branding, search, innovation, email marketing, influencer marketing, healthcare marketing, multicultural marketing, word of mouth marketing (WOMM), and gaming.
To download the report, Marketing Trends Report, please visit www.agencyspotter.com/trends-report. To learn more about how Agency Spotter can help you search and select your next agency partner, visit agencyspotter.com/about/how-agency-search-works.
About Agency Spotter
A B2B marketplace and SaaS provider, Agency Spotter connects marketing decision makers with top marketing agencies across advertising, design, digital, and 38 marketing services. Attracting small, medium, and global enterprises, Agency Spotter is the world's top independent choice for agency search, selection, and agency management.
Agency Spotter's website and iPhone app map the marketing services industry landscape, making it easy to use more information, like verified client reviews, to build a shortlist and select the right agency partner. For more information or to search for your next digital agency partner, visit agencyspotter.com.
Media Contact
Daniel Kim
Phone: +1 770.676.2839
Email: daniel@agencyspotter.com
Source: Agency Spotter
Share: