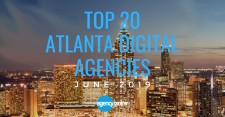 For its latest Top Atlanta Digital Agencies Report, the B2B ratings and review authority, Agency Spotter, ranked over 450 digital marketing agencies in the Atlanta Metro Area based on verified client reviews, credentials, focus areas, related expertise, and project work.
ATLANTA, June 26, 2019 (Newswire.com) - ​​​​​​​​​​​​​​​​​​​​​​The Top Atlanta Digital Agencies Report evaluates more than 450 digital agencies based on Agency Spotter's proprietary research methodology. This report takes a broad look at digital agencies in Atlanta who focus on digital competencies such as digital strategy, marketing automation, web design and development, mobile design and development, e-commerce, social media marketing, content marketing, email marketing, inbound marketing, CRM automation, search (SEO and PPC) and gaming.
Insights on the Winning Atlanta Digital Agencies
45% are mid-size agencies​​
40% have multiple locations
20% are small-sized agencies
10% are women-owned
The top Atlanta digital agencies covered in this report work with some of the world's most established companies including AT&T, Comcast, Disney, Home Depot, and Salesforce.
FortyFour placed first on Agency Spotter's Top 20 Atlanta Digital Agencies Report for June 2019. Founded in 2011, they are a full-service digital agency that creates digital solutions, experiences and campaigns that elevate brands and drive growth.
They believe that agencies should put client growth first and foremost, use data to back up their decisions, and measure their success only by that of their clients. From robust e-commerce programs to national digital campaigns to global multi-language CMS implementations, FortyFour has the talent and experience to plan, launch, and grow a company's digital footprint.
Jonathan Sieling, Operations Manager of Case-Mate, states, "The team at FortyFour is very well experienced and extremely knowledgeable."
Fortyfour's clients include Adult Swim, Coca-Cola, Frontline, and Shoney's.​
Launch placed second on this Top 20 Atlanta Agencies Report. Under recent hire of Jerry Hudson, Head of Innovation and Growth spearheading the company's future, this agency begins their approach by learning about their client's company, challenges, and customers so they can work together on creating actionable plans to meet their company's objectives.
Their client roster ranges from startup software companies to the Fortune 1000 including Autodesk, Char-Broil, Home Depot, Salesforce, and Terminus.
As a new, but proven agency on Agency Spotter, Avanade ​came in third place on the Top Atlanta Digital Agencies Report. Avanade is the leading provider of innovative digital and cloud solutions focused on design-led user experiences delivered through the power of people and the Microsoft ecosystem.
This agency brings bold, fresh thinking combined with technology, business, and industry expertise to help fuel transformation and growth for our clients and their customers. They also bring the best thinking for their clients which has resulted in 30,000 digitally connected people over 24 countries.
Top Atlanta Digital Marketing Agencies
| | |
| --- | --- |
| Rank | Agency Name |
| 1 | FortyFour |
| 2 | Launch |
| 3 | Avanade |
| 4 | Response Media |
| 5 | Moxie |
| 6 | Propellant Media |
| 7 | Brandware |
| 8 | Dalton Agency |
| 9 | Eastmont Digital |
| 10 | Look Listen |
| 11 | Modo Modo Agency |
| 12 | Lead Horse Marketing |
| 13 | Brightwave |
| 14 | Mighty Roar |
| 15 | Sparks Grove |
| 16 | Cool Blue Interactive |
| 17 | ISO Interactive |
| 18 | DEFINITION 6 |
| 19 | Narwhal Digital |
| 20 | Azul Arc |
About Agency Spotter
A B2B marketplace and SaaS provider, Agency Spotter connects marketing decision makers with top marketing agencies across advertising, design, digital and 41 marketing services in all. Attracting small, medium and global enterprises, Agency Spotter is the world's top independent choice for agency search, selection and agency management.​
Agency Spotter's website maps the marketing services industry landscape, making it easy to use more information, like verified client reviews, to build a shortlist and select the right agency partner. For more information or to search for a digital agency partner, visit agencyspotter.com.
Media Contact
Mingu Lee
Phone: +1 678.609.3056
Email: mingu@agencyspotter.com
Source: Agency Spotter
Share: