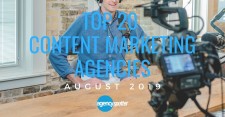 For its latest Top 20 Content Marketing Report, the B2B ratings and review authority, Agency Spotter ranked over 380 content marketing agencies based on verified client reviews, credentials, focus areas, related expertise and project work.
ATLANTA, August 21, 2019 (Newswire.com) - ​​​​​​The Top 20 Content Marketing Agencies Report evaluates more than 380 content marketing agencies based on Agency Spotter's proprietary research methodology. This report takes a broad look at content marketing agencies from around the world.
Insight on the Winning Content Marketing​ Agencies
50% are mid-sized agencies
20% are based in New York City, New York
20% are based in Atlanta, GA
15% are minority-owned
These top content marketing agencies work with some of the world's most renowned companies, including IHG, Microsoft, Nike, Turner, and Warner Bros.
Kworq placed first on the Top Content Marketing Agencies Report. This agency lives by story-driven design. From the start of any project, they strive to think about who their story needs to reach, where it will be shown, and who will empathize with their woven narrative.
They've successfully applied this thinking across multiple disciplines with clients all across. They believe that a brand story is designed to reach audiences through websites, video campaigns, online interactions, and personalized experiences. Kworq's work builds engagement, brand awareness, and increases returns.
Josh Chapin, Board Member of The Harry Chapin Foundation states, "Throughout the whole process, even when it was us that slowed the pace, the Kworq team stayed engaged, professional and exceptionally good-natured."
Kworq​'s clients include Calvin Klein, Century 21, L'Oreal, Rayban, and Verizon.
Major Tom earned second place on this Top 20 Content Marketing Agencies Report. With offices in New York, Toronto, and Vancouver, this full-service agency is purpose-built to help clients thrive in today's increasingly complex marketing landscape. ​They are a proven agency with a strong track record for providing premium online positioning and superior service for their clients.
Major Tom has a team of more than 85 specialists covering the full spectrum of strategy, marketing, development, and creative. By combining top-level strategic consultancy and a full spectrum of marketing services, Major Tom is designed to help organizations connect with the right audiences, with the right information, at the right time. Some of Major Tom's clients include Cirque du Soleil, HSBC Bank, Red Bull, and Westin Hotels & Resorts.
Top Content Marketing Agencies
| | |
| --- | --- |
| Rank | Agency Name |
| 1 | Kworq |
| 2 | Major Tom |
| 3 | Creative Deviants ​ |
| 4 | Chemistry |
| 5 | Brass Ideas Advertising |
| 6 | Red Rock |
| 7 | Simple Story ​ |
| 8 | Tango Creative Group |
| 9 | Mad Fish Digital |
| 10 | madison/miles media |
| 11 | Donnan Creative Strategy |
| 12 | SunnyBoy Entertainment |
| 13 | The Content Factor |
| 14 | KINGSPOKE |
| 15 | Hypno |
| 16 | Valverde & Co. |
| 17 | Kastner Los Angeles |
| 18 | BayCreative |
| 19 | Counterweight Media |
| 20 | Bookmark Content and Communications |
About Agency Spotter
A B2B marketplace and SaaS provider, Agency Spotter connects marketing decision-makers with top marketing agencies across advertising, design, digital and 41 marketing services in all. Attracting small, medium and global enterprises, Agency Spotter is the world's top independent choice for agency search, selection and agency management.​
Agency Spotter's website maps the marketing services industry landscape, making it easy to use more information, like verified client reviews, to build a shortlist and select the right agency partner. For more information or to search for a digital agency partner, visit agencyspotter.com.
Media Contact
Mingu Lee
Phone: +1 678.609.3056
Email: mingu@agencyspotter.com
Source: Agency Spotter
Share: