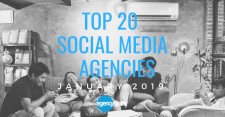 For its latest Top 20 Social Media Marketing Report, the B2B ratings and review authority, Agency Spotter ranked over 700 social media marketing agencies based on verified client reviews, credentials, focus areas, related expertise, and project work.
Atlanta, January 8, 2019 (Newswire.com) - ​Top 20 Social Media Marketing Agencies Report evaluates more than 700 social media marketing agencies based on Agency Spotter's proprietary research methodology. This report takes a broad look at social media marketing agencies from around the world. While many of the agencies may focus on marketing, the top social media marketing agencies in this report all have social as a core capability, and many also lead in-house media development.
Insight on the Winning Social Media Marketing​ Agencies
75% are mid-sized agencies
20% are based in New York City, NY
20% are women-owned
10% are minority-owned
These top social media marketing agencies work with some of the world's most notable companies including Dropbox, Instagram, LG, Nike, and YouTube.
Sociallyin placed first on Agency Spotter's Top 20 Social Media Marketing Agencies Report for January 2019. They are a 100% focused social media agency with work focused in different aspects of social media including strategy development, original content production, community management, ROI modeling & listening, and influencer strategies.
Their culture is distinct, with a team full of creatives, artists, designers, social butterflies, writers, photographers, entrepreneurs, and strategists. Sociallyin's mission is to create lasting connections by engaging people at a personal level online, with a belief that the reward for creating something truly original doesn't come without its risks of trying something new.
James Stuart​​, CMO of Old St. Augustine Gourmet Foods​ states, "We now have significantly higher conversion rates on our website. We have digital ads on Google and Facebook that are generated positive ROI. We also now better understand how to keep the ball rolling because the SociallyIn team were open and transparent about their processes..."
Sociallyin​'s clients include Dick's Sporting Goods, TGI Friday's, Toyota, and The Winter Olympics.
Bigbuzz Marketing Group earned second place on this Top 20 Social Media Marketing Agencies Report. Located in New York, NY, this agency has a model built on growing brands through inspiring and innovative content, well designed multi-channel brand platforms, and recognition of balance in media power. Their clients consistently rave about their account management, attention to detail, timeliness, and high efficiency. Some of Bigbuzz Marketing Groups' clients include Disney, HBO, Honeywell International, and Nikon.
Top 20 Social Media Marketing Agencies, January 2019
| | |
| --- | --- |
| Rank | Agency Name |
| 1 | Sociallyin |
| 2 | Bigbuzz Marketing Group |
| 3 | E29 Marketing |
| 4 | Brandware Public Relations |
| 5 | Artisan Council |
| 6 | Social Media Beast |
| 7 | Creative Deviants |
| 8 | The Creative Exchange |
| 9 | Smith Brothers Agency |
| 10 | Sir Isaac |
| 11 | Ignite Social Media |
| 12 | Social Fulcrum |
| 13 | Flightpath |
| 14 | Paolucci Salling & Martin Communications |
| 15 | Udonis |
| 16 | Dalton Agency |
| 17 | The MediaHolic Co. |
| 18 | Social Media 55 |
| 19 | Vizion Interactive |
| 20 | Pursuit |
About Agency Spotter
A B2B ratings and review marketplace and SaaS provider, Agency Spotter connects marketing decision-makers with top marketing agencies across advertising, design, digital, and 40 other marketing services. Agency Spotter makes it easy for any professional, from small business owner to CMO of a global enterprise, to take their marketing agency search from months to minutes.
Agency Spotter's website helps users navigate the agency landscape. They are easy to use and provide deep agency information, like verified client reviews and project work, to help thousands build agency shortlists and select agency partners. Learn more at www.agencyspotter.com
Media Contact
Mingu Lee
Phone: 1+ 678.609.3056
Email: mingu@agencyspotter.com
Source: Agency Spotter
Share: