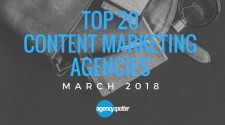 The report showcases the 20 best content marketing agencies out of the 330+ listed on the B2B ratings and review authority's website www.agencyspotter.com​
ATLANTA, March 19, 2018 (Newswire.com) - ​The inaugural issue of the Top Content Marketing Report has been issued by Agency Spotter, highlighting the top 20 content agencies out of over 330 on the B2B ratings and review authority's website agencyspotter.com.
Brass Ideas Advertising out of San Francisco earned the #1 spot on the inaugural report. Based in San Francisco, the agency specializes in electronics, consumer goods, financial services and telecommunications marketing.
We have deep experience in and love for technology advertising. We bring humanity and thus motivating power to it.

Andrew Clarke, Brand Strategist & Creative Writer, Brass Ideas Advertising
One of Brass Ideas' most notable achievements is their Bill Lumbergh campaign for Atlassian HipChat, which went viral with 12 million YouTube shares in 90 days and over 100,000+ clicks despite a small media budget.
According to Atlassian's Head of Brand & Advertising, Brass Ideas swooped in "ninja-like" and "delivered results in less time and for less money" than the big-name agency the company had recently stopped working with.
Brass Ideas has worked with Microsoft, Intel, Google, Twitter, Taylor Made Golf, PUMA, Lynda.com, SmartRecruiters and Galvanize among others. Explore their entire portfolio, along with the full Top 20 Content Marketing Agencies Report here: https://www.agencyspotter.com/top/content-marketing-agencies.
Top 20 Content Marketing Agencies on Agency Spotter, March 2018
| | |
| --- | --- |
| Rank | Agency Name |
| 1 | Brass Ideas Advertising |
| 2 | PACE |
| 3 | Actualize Marketing |
| 4 | The Content Factor |
| 5 | Havas Sports & Entertainment |
| 6 | Kworq |
| 7 | Dalton Agency |
| 8 | Brandware Public Relations |
| 9 | Creative Deviants |
| 10 | madison/miles media |
| 11 | Column Five |
| 12 | leftchannel |
| 13 | Simple Story |
| 14 | CI Design |
| 15 | Bredin Inc. |
| 16 | ADROC Productions |
| 17 | Watermark |
| 18 | Magnafi |
| 19 | Dagger |
| 20 | Prose Media |
PACE out of North Carolina and with offices across the U.S. came in a close second. PACE is well-known in the content marketing space. They have helped some of the world's top brands including Four Seasons Hotels & Resorts, Gold's Gym, Rackspace, Verizon Wireless, Southwest Airlines, New York Presbyterian, The Auto Club Group (AAA) and Walmart.
Insight on the Winning Agencies
95 percent are independent firms (all except Havas Sports & Entertainment)
85 percent have fewer than 50 employees
20 percent have multiple locations
Five are listed as women-owned (PACE, Actualize Marketing, The Content Factor, Brandware Public Relations and Bredin)
The agencies were selected based on Agency Spotter's proprietary research methodology, which uses their website's extensive data along with qualitative and quantitative insights to evaluate many factors including each company's qualifications, experience level, positioning and client feedback.
Agency Spotter's top agency research reports are issued on a regular basis and are continuing to roll out across numerous marketing and design service areas. Interested companies are encouraged to claim their agency or apply to get listed and review the report methodology to be evaluated for future coverage.
About Agency Spotter
A B2B ratings and review marketplace and SaaS provider, Agency Spotter connects marketers with top marketing agencies across advertising, design, digital and 40 other marketing services. Their website and iPhone app help users navigate the agency landscape, are easy to use and help thousands research and select agency partners. Visit www.agencyspotter.com.
Media Contact
Paul Weston
Phone: +1 470.635.1510
Email: paul@agencyspotter.com
Source: Agency Spotter
Share: