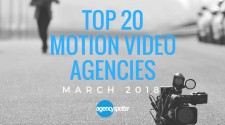 The report evaluates more than 340 video production agencies using proprietary research methodology to identify the best 20 listed on the B2B ratings and review authority's website, AgencySpotter.com.
ATLANTA, March 26, 2018 (Newswire.com) - The inaugural top production agencies list includes a variety of agencies specializing in video marketing, video production, explainer videos, YouTube videos, advertising videos, and promotional video creation. Because it is the first ever report of its kind, the featured agencies had little opportunity to compare themselves to each other to optimize their chances of winning. This means that they are long-time top performers.
The number one video production agency Lemmon/Hughes on Agency Spotter's report. They prefer to focus on human interests videos versus advertising production alone and believe in the rule of thumb that "no one cares what you have to say if it's not interesting."
We are firm believers in the late Howard Gossage's observation: 'The real fact of the matter is that nobody reads ads. People read what interests them, and sometimes it's an ad.'

Todd Lemmon, Creative Director and Cofounder, Lemmon/Hughes
Marketing transparency and alignment are more important now than ever, especially to CMOs and other senior marketing decision-makers, per Agency Spotter's January 2018 Marketing Trends Report. And, Lemmon/Hughes has a very transparent and aligned process for their client-agency relationships: "We are all account executives... [working with us means] no layers, no games of telephone, zero latency-understanding, no gatekeepers, and no precious divas. Simple as that."
That level of dedication to clarity and integration is special and cherished by many clients. Lemmon/Hughes works with companies of all sizes. Their clientele includes Verizon, Momentum Sports, IBM, Toyota, PMC, Redbox, Alberto Culver, and more.
Top 20 Video Production Agencies on Agency Spotter, March 2018
| | |
| --- | --- |
| Rank | Agency Name |
| 1 | Lemmon/Hughes - Nashville, Tennessee |
| 2 | PatrickOrtman, Inc. - Studio City, California |
| 3 | IndieWhip - Providence, Rhode Island |
| 4 | Kworq - New York, New York |
| 5 | Mitchell Palmer - Boise, Idaho |
| 6 | Honest Motion - Kings Park, New York |
| 7 | leftchannel - Columbus, Ohio |
| 8 | Stork - New York, New York |
| 9 | fLO Content Marketing - San Francisco, California |
| 10 | The Juju - New York, New York |
| 11 | and action - Lviv, Ukraine |
| 12 | Magic Beans Creative - Los Angeles, California |
| 13 | Commotion Engine Animation - Atlanta, Georgia |
| 14 | PCI - Alexandria, Virginia |
| 15 | Simple Story - Ottawa, Canada |
| 16 | Modicum - New York, New York |
| 17 | Zellmer McConnel Advertising - Austin, Texas |
| 18 | OH Partners - Phoenix, Arizona |
| 19 | 87seconds - Brussels, Belgium |
| 20 | Corduroy Media - Oakland, California |
A more detailed version of the report which includes agency portfolios and verified client reviews exist on Agency Spotter's website: https://www.agencyspotter.com/top/video-production-agencies
Insight on the Winning Agencies
100% are independent firms
95% have fewer than 50 employees
25% have multiple locations
25% are located in New York
20% are located in California
15% are women-owned (Stork, fLO, Zellmer McConnell)
One is listed as minority-owned (The Juju)
One is located in Canada (Simple Story)
One is located in Belgium (and action)
In close second was, the ADDY-award winning video production agency PatrickOrtman out of New York. They are also three-time Telly Award winners and have worked with household brands like BMW, IBM, Apple, AT&T, CapitalOne, MasterCard, along with many startups and nonprofits.
Agency Spotter's top agency research reports are issued on a regular basis and are continuing to roll out across various marketing, advertising, and design service areas. Interested companies are encouraged to claim their agency or apply to get listed and review the report methodology to be evaluated for future coverage.
About Agency Spotter
A B2B rating and review marketplace and SaaS provider, Agency Spotter connects marketers with top marketing agencies across advertising, design, digital and 40 other marketing services. Their website and iPhone app help users navigate the agency landscape, are easy to use and help thousands research and select agency partners. Visit www.AgencySpotter.com.
Media Contact
Paul Weston
Phone: +1 470.635.1510
Email: paul@agencyspotter.com
Source: Agency Spotter
Share: