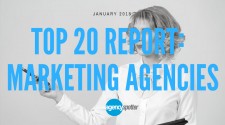 Agency Spotter ranks more than 2,800 marketing agencies based on credentials, focus areas, related expertise, verified client reviews, and project work for quarterly reports.
ATLANTA, GEORGIA, January 23, 2018 (Newswire.com) - ​​​Agency Spotter releases the Top Marketing Agencies Report for Q3 of 2017. The report features the top 20 marketing agencies across marketing strategy, public relations, experiential marketing, promotions, shopper marketing, influencer marketing, multicultural marketing, word of mouth marketing, events, direct marketing, and marketing automation.
Ranking is based on agency credentials, their focus and expertise in different areas of marketing, verified client feedback, and project work.
"NEXT/NOW delivered on our expectations and produced VR work that was the highlight of our campaign. They hit their deadlines and budgets and were extremely easy to work... [they] delivered work product that far exceeded their cost."

Matt Kraus, President, Evolve Concepts Inc.
NEXT/NOW, an experiential marketing agency from Chicago, remains the #1 marketing agency for January 2018. They have held this position since October 2017. The agency has worked with great companies like Intel, McDonald's, Mazda, Under Armour, BP, Audi, and many more.
Client's had nothing but praise for the Chicago agency, saying that NEXT/NOW operates under reasonable deadlines and budgets and delivers on expectations, specifically on VR (virtual reality) projects. VR is a growing trend as a marketing tool. In response, Agency Spotter recently added AR (augmented reality) VR as an agency search option on agencyspotter.com.
Explore the full marketing agencies report here, including verified client reviews, project work, and much more: https://www.agencyspotter.com/top/marketing-agencies.
Learn more about Agency Spotter's methodology to rank agencies and check out more in the top agency reports from Agency Spotter.
Top 20 Marketing Agencies Report: January 2018

| Rank | Agency Name |
| --- | --- |
| 1 | NEXT/NOW |
| 2 | Magnani Continuum Marketing |
| 3 | Dalton Agency |
| 4 | Lemmon/Hughes |
| 5 | Response Marketing |
| 6 | Brandware Public Relations |
| 7 | Havas Sports & Entertainment |
| 8 | GNF Marketing |
| 9 | Trajectory |
| 10 | Smarthinking |
| 11 | Actualize Marketing |
| 12 | Boone Oakley |
| 13 | Chemistry |
| 14 | X! PROMOS |
| 15 | The Ramey Agency |
| 16 | Hollister Creative |
| 17 | Strategic America |
| 18 | Elysium Marketing Group |
| 19 | madison/miles media |
| 20 | 6s Marketing |
Facts about this quarter's top branding agencies:
70% have less than 50 employees
55% are women owned (30% more than in August)
100% are independent businesses
They cover ground. Though relatively small, these agencies work with clients big, small, and industrially diverse such as Adidas, Apple, Coca- Cola, Cadbury, Bojangles', the Catholic Diocese of Brooklyn, Harvard University, POLO by Ralph Lauren, the History Channel, The Economist, Starbucks, and more.​
Come from 16 cities, 13 US states, including Atlanta, Chicago, Pittsburgh, Los Angeles, New York, Venice, Irvine, and West Des Moines
About Agency Spotter
A B2B marketplace and SaaS provider, Agency Spotter connects marketing decision makers with top marketing agencies across advertising, design, digital, and 38 marketing services. Attracting small, medium, and global enterprises, Agency Spotter is the world's top independent choice for agency search, selection, and agency management.
Agency Spotter's website and iPhone app map the marketing services industry landscape, making it easy to use more information, like verified client reviews, to build a shortlist and select the right agency partner. For more information or to search for your next digital agency partner, visit agencyspotter.com.
Media Contact
Paul Weston
Phone: +1 770.634.0755
Email: paul@agencyspotter.com
Source: Agency Spotter
Share: